Embedded business intelligence is the natural evolution of analytics. This revolution in business intelligence provides valuable insight and creates actionable data that you can use to drive improvement in your organization.
Business applications are rapidly moving toward embedding an analytics tool into their core processes to drive innovation, increase revenue, and reduce costs.
What is embedded business intelligence?
Embedded business intelligence integrates data reports and analytics into the organization's applications. The shift in how companies leverage their data and analytics can change how they operate.
While this movement is not new, it is now taking on a new life. With business users leveraging IoT, wearables, and cloud technologies, there is an increasing need for intelligent insights that you can rapidly use to make strategic decisions and drive operational efficiencies.
What does embedded business intelligence mean for you?
Embedded business intelligence involves using analytical capabilities within your existing applications or custom solutions.
It also involves adding analytical capabilities and features to your applications so that you can do the following actions:
Improve Embedded Analytics User Adoption and Effectiveness
Companies embed BI because it helps organizations understand their customers better and make better decisions.
However, most BI systems are not quickly adopted. They require an in-depth understanding of the business. They also require a considerable investment in training and support.
The next generation of BI aims to remove these barriers by making BI user adoption more effortless and more intuitive.
They will help you get insights from your data without investing heavily in training and support for your users.
Build a Bridge Between Information and Action
BI helps companies make better decisions and improve operational efficiency. But it is often not enough to get this information. You need to take action to achieve your goals.
For example, you can see how many customers use a particular product and determine if the product is performing as expected.
You can also track the impact marketing campaigns have on your revenue.
The actual power of BI lies in the ability to extract deeper insights from the data and improve your decision-making process.
Embedded BI provides the functionality to transform raw data into actionable insights that you can use to drive improved customer service, more outstanding sales, higher productivity, and more.
Get Insights, Take Action, and Monitor Results on the Same Platform
The future of business intelligence software will not be about producing mass amounts of data or generating more insights from them.
It will be about being able to act on those insights in real-time to drive business value quickly and effectively.
Business intelligence tools will enable companies to seamlessly connect their applications with existing BI systems via web APIs or API-enabled software applications (SaaS).
A seamless connection means that any business process can now be linked with current BI systems. You can now get instant insight and take action.
Enhance the Scalability and Value of Your Core Applications
Business analytics has a tremendous impact on organizations, yet it is often not adequately used because of poor implementation.
This lack of performance often stems from the lack of understanding of the advanced functionality and the need to integrate it into core business processes.
The challenge with this approach is that BI can't be applied across all applications in an organization, especially when you have a wide variety of data sources spread across multiple applications.
This is where EBI comes in.
Embedded business intelligence provides the means to embed analytics into your core business processes. It allows you to improve operational efficiency and productivity by extracting data-driven business decisions.
These insights will help your organization streamline its product management and have a more efficient workforce.
Have the Capability of Increasing Revenue via Upselling Opportunities
The ability to embed analytics into your core product marketing processes will enable you to increase revenue. You can do this by creating upselling opportunities and improving customer service.
Understanding customer behavior and current trends will also enable you to provide more excellent value to customers through enhanced product development.
Customers can grow more loyal when you give them access to a new or upgraded product based on their needs.
Create a Fantastic Analytical Experience
Furthermore, as more companies embed BI into their core processes, it will become increasingly important to have a higher-level analytical experience.
BI should have an interactive dashboard with a custom visual that helps you understand data easily.
Additionally, an excellent example of this is the recent announcement by Intel. They announced that they are introducing machine learning capabilities into their product lines to provide customers with advanced analytic tools.
Consequently, this capability will enable Intel customers to get more out of their data. In turn, it will help Intel improve the products they are selling and reduce the costs associated with product customization.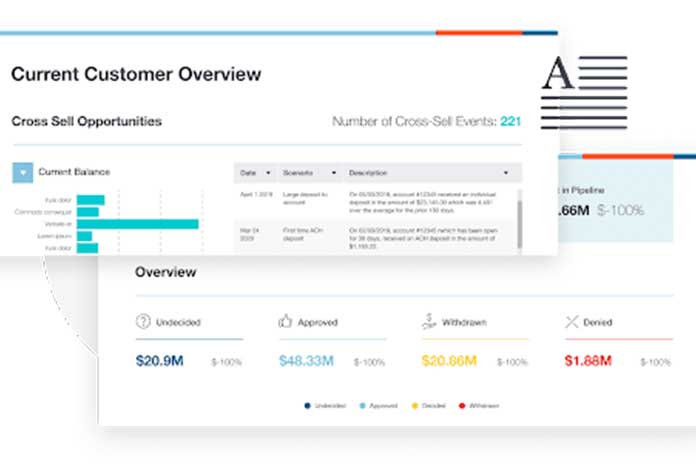 Focus Your Resources on Uplifting Your Core Product
The ability to embed pre-built dashboards into your core business processes will help you focus your time and resources on things that matter.
It includes things like upselling opportunities and enhancing product customization. Thus, getting more value from your existing data will improve customer service.
The increase in value will enable you to create better products and services. You can also enhance organizational effectiveness and efficiency by facilitating process automation.
In addition, you can use an interactive report to create an even better user experience for your customers. Using this method will also allow you to get a better ROI from your products and services while enhancing the overall value of your organization.
Support Pervasive Business Intelligence Platforms
In short, embedded artificial intelligence will provide a better experience for your customers by helping them get insights from their data and take action in real-time.
Therefore, the experience will help you provide a better customer experience by getting more value from your existing data to your customers. This value will also enable you to increase sales from upsell opportunities and other revenue streams.
Boost Organizational Effectiveness and Efficiency by Facilitating Process Automation
With embedded BI, you can create a bridge between information and action, making it easier for users to derive actionable insights from their data.
Also, you can also build an enterprise-wide visual reporting dashboard that will help you streamline business processes, improve productivity, and boost organizational efficiency.
Have a Sustainable Competitive Edge Over Your Peers
Moreover, the ability to embed analytics into your core business processes will enable you to get more value on a short-term and long-term basis.
This value will also allow you to have a sustainable competitive advantage over your peers.
Why do you need to choose Yellowfin's embedded business intelligence?
Yellowfin's analytics platform provides the best examples of business intelligence. Thus, it helps you improve operational efficiency and productivity using in-depth analysis.
In addition, you can also build an enterprise-wide dashboard that will help you streamline business processes, improve productivity, and boost future outcomes.