After much anticipation, Betswap.GG is pleased to announce the successful launch of the beta version of the world's first and fully decentralized betting exchange! Betswap Open Beta allows fans and community members to test our platform and make sure it works properly for the global launch.
The entire Betswap team would like to reaffirm their commitment to building the first truly revolutionary decentralized betting exchange for the people and to launch our beta site, they are proud to make this great first step towards a truly decentralized future. Sometimes it seems like there's so much going on in the crypto space that it's hard to zoom out and see progress.
adoption takes place. The dream of Web 3.0 developers has always been an Internet owned by users and developers, orchestrated by tokens. Most of the world still lives in centralized systems, which means we need to build bridges between CeFi and DeFi to bring new users into the space.
The way cryptocurrency decentralization and scaling happens is not just throwing out tokens and trying to get people to buy them. Instead, it's about creating platforms that people want to use because they solve issues and fix their weaknesses. Betswap.GG is building a form of social scalability that will allow people who don't know each other, who don't trust each other, who may never meet each other, to still transact securely and from the comfort of their home, while still in control, watch over their funds.
By bypassing intermediaries and brokers through the use of smart contracts, each person can experience more freedom, more freedom, more opportunities and more choices than before. That's why we want to thank our amazing community once again for joining us in this journey to bring the best decentralized bookmaker to the market.
We strive to provide our users with the best possible platform and continue to build and improve it. So if you use our beta site, feel free to leave us feedback and comments on all our social media.
Using Betswap.GG:
Betswap.GG is a DAAP application or décentralisée accessible depuis on our website Web DAAP is like a number found application on your smartphone or on your computer, with a additional functionality to use in blockchain technology. Just like cryptocurrency is decentralized money, DAAPS are decentralized apps.
You can access our DAAP two ways, either head over to https://betswap.gg/ and click "Launch DAAP", or head over to https://beta.betswap.gg/.
Once you have reached our DAAP, you can connect your wallet to Metamask by clicking "Connect Wallet" in the upper right corner.
If your wallet does not have the default network settings for Polygon, just follow the MetaMask prompt to automatically approve the Polygon settings.
Just sign the transaction and you're done.
To interact with Polygon, MATIC tokens must be paid as gas payment. One of the reasons we chose the Polygon chain is that the gas charges are usually low (especially compared to other chains).
Be sure to add MATIC to your wallet for transactions. Bets are placed in stablecoins such as USDT, so bets and payouts do not fluctuate between bets placed and settled. Be sure to add or link stablecoins to your Polygon wallet and you can start placing bets!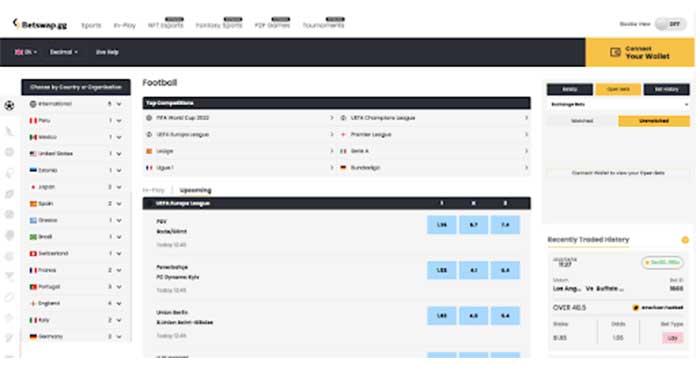 On the home screen you can switch between the sports on the far left to the far right, now we've selected football (soccer for some of our readers) but below that are ice hockey, basketball etc.
Here we have to PSV vs Bodø Take a closer look at our options.
We can bet (or "Back") either PSV, a draw, or Bodø. Here, we will be selecting Bodø and our Betslip will update on the right hand side.
We can choose our total bet and preview the total payout. For every $1 bet we can win $6.20. Adjusting the odds and bet amount changes the payout calculations in real time. When you find the bet you want to place, simply click the yellow "Place a bet" button.
One of the main advantages of using Betswap.GG is that we allow users to "be a bookie" and set their own odds. When you switch to "Betting View", the home screen will change as follows.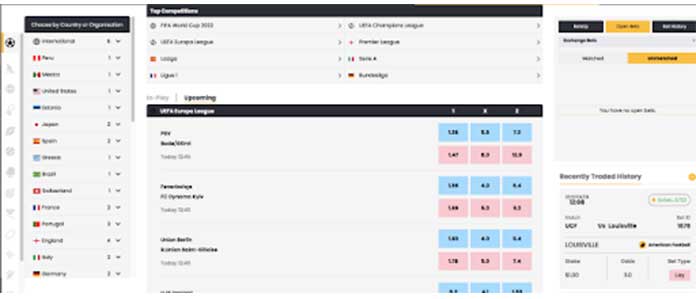 Note that the blue squares still represent the same "Back" bets as before, but we now have an additional pink square representing "Lay" betting options.
Now I can choose for each result between "Back" or "Lay". "Betting" is betting because something will not happen. For example, if you believe that PSV will not win, you can place PSV and bet that it will NOT win. You will win your bet if PSV lose their game or draw.
If I select 'Lay' here, the PSV betslip allows me to set my own odds and bets and then place the appropriate bet.
You can always refer to our introduction to Back and Lay betting for relaxation.
Remember, stay safe and gamble responsibly.
The beta release is an important milestone for us, but it's just the beginning. The future we are building is bright because more and more customers are focusing on the important benefits of betting exchanges, which are better odds, transparency and accessibility from anywhere in the world.
Stay tuned as we have many exciting announcements and developments in the coming months and we thank you all for following our quest and participating in bringing you the best betting platform possible. We are fortunate to have an incredibly supportive community and can't wait to continue to grow and build a platform that will help shape the future of blockchain betting.
Also Read: A Deeper Look Into Blockchain