Millions of people get calls from unknown numbers daily, which they either ignore or respond cautiously since they don't know who might be calling. Unfortunately, it can be difficult and annoying to identify an unknown caller. These calls frequently come with spam or scams from people attempting to convince you to give them your personal information or money.
Thankfully, a few ways exist to identify unknown callers before answering or leaving a voicemail. These methods range in usefulness and effort, but they are all worth trying if you want to feel secure using your phone.
To help you decide whether to answer a call, we'll use five distinct techniques to recognize unknown callers in this comprehensive tutorial.
Top 5 Ways to Check Who an Unknown Caller Is
WhoseNumber – Overall the best source to identify unknown callers
WhatIsThisNumber – Best site for reverse phone numbers lookup
BeenVerified – The reliable people search and reverse phone lookup site
WhoCallMe – The quickest reverse phone lookup service
Intelius – The most adaptable reverse lookup platform
1. WhoseNumber
WhoseNumber is a popular website that helps people identify unknown callers. One of the largest databases, the website database, contains over 70 million phone numbers. Users only need to enter the phone number they wish to track down, and WhoseNumber will give them details regarding the owner of the number.
WhoseNumber's community-driven strategy for identifying unknown calls is one of its primary characteristics. You can rate and comment on specific phone numbers in each area by using WhoseNumber, which lets other users know whether they should answer the call when it rings. People who frequently receive robocalls or marketing calls have found this function to be of particular use.
Pros
Its phone number database is enormous.
It provides accurate information
It has a user-friendly interface
The site provides detailed information about each caller, including their name, address, and even criminal records in some cases.
Cons
WhoseNumber doesn't have call-blocking features
Sometimes the search speed gets slow.
It does not save search information
Periodic adverts
2. WhatIsThisNumber
WhatIsThisNumber is a commonly used online tool that helps identify unknown phone numbers. It is user-friendly, and finding out who is calling is straightforward. All you need to do is enter the phone number on the website's search bar, and within seconds, you will receive information about the caller.
The tool searches through its extensive database of registered phone numbers to provide accurate details about the caller's identity. In addition to providing caller ID information, WhatIsThisNumber can also tell you the location of where the call was made from.
Pros
The database used by this service is constantly updated.
It provides up-to-date information about a particular number.
The service is free of cost.
It offers a 100% private search.
The search is high-speed.
Cons
It is only for reverse phone lookup.
This site does not offer private investigator or consumer reports services.
Also Read: How Can You Know Who Called You From An Unknown Phone Number
3. BeenVerified
This website allows you to search for people by name or phone number, giving you access to their background information, such as criminal records, social media profiles, and address history.
In addition to its people search feature, BeenVerified has a reverse phone lookup tool to help you identify unknown callers. Enter the phone number into the search bar and wait for the results. This feature is handy if you receive repeated calls from a specific number but don't recognize it.
BeenVerified is a reliable resource for identifying unknown callers and gaining more information about them.
Pros
A straightforward search results in thorough reports.
It offers outstanding customer service.
Easy to understand price and a plan.
Both membership packages provide the user with a variety of advantages.
It offers mobile applications of the highest caliber.
Comparatively simple to use.
Cons
It's not always possible to update information about people. Therefore it might not be entirely up to date.
Search results sometimes take a while to appear.
4. WhoCallMe
A web-based reverse phone lookup service called WhoCallMe makes it simple to find out who called you from an unknown number. It restores your ability to decide who may contact you on the phone.
This reverse phone lookup service is much more accurate and reliable than most other online alternatives. Furthermore, the service is offered 24/7, seven days a week, and is free for single searches.
On WhoCallMe, when you look up a phone number, you get a report containing details about the person calling you, including their name, address, friends, social media profiles, and more. You will receive findings as quickly as it is practical, no matter your requirements.
Pros
Very straightforward search process with a simple user interface.
Rapid verification; you'll have your report right away.
The databases at WhoCallMe are updated frequently.
All users who have a device with the internet can use WhoCallMe's services for free.
The platform ensures that your privacy is never at risk by using 128-bit military-grade encryption.
Cons
Unlisted phone numbers cannot be tracked.
Information may be outdated if the target is unemployed and rarely interacts with the government.
5. Intelius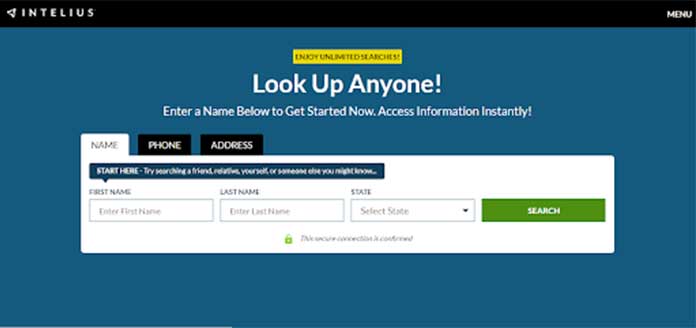 Intelius is a popular online people search engine that offers various services, including reverse phone lookup. By simply entering the unknown number into their platform, users can access details such as the caller's name, address, age, and even criminal history by merely entering the unknown number into their platform.
One unique feature of Intelius is its ability to provide background checks on individuals. Users can investigate further if the unknown caller appears suspicious or potentially dangerous by accessing their criminal record or other pertinent information. Intelius also offers mobile apps for iOS and Android devices that allow users to perform searches on the go.
Pros
Provides a range of pricing and subscription levels.
Extensive database of public records
Great Android and iOS mobile applications
Rapid results
Pleasant user interface
Cons
Uncertain pricing.
Sometimes, incomplete reports are generated.
Conclusion
When receiving calls from alarming numbers, it is necessary to proceed with caution. With the rise of phone scams and fraudulent activities, identifying unknown callers has become more critical. Fortunately, there are various ways to check and verify callers' identities.
You can use online reverse phone lookup services that provide information about the caller's identity and location. You can install call-blocking apps that automatically screen incoming calls based on their reputation score.
By using these methods and being vigilant about who you communicate with over the phone, you can protect yourself from unwanted spam calls and potential scams.
To find that stranger who called you and from where, you need a trusted and accurate service, which can always provide you with the correct and fast information, and this is where you must opt for WhoseNumber.
Also Read: PhoneNumberLookupFree Review